We have started a regular support service so that the cutting machine can be used more safely and more reliably. We provide three plans at low costs with which dedicated service persons periodically visit and conduct inspections according to the special check list, periodic oil change and preparation of an inspection record and propose adjustment and parts change so that your machine can operate stably and safely.
Periodic insperction+Record
The Industrial Safety and Health Law stipulates that the employer using a cutting machine be required to perform autonomous inspection of the cutting machine periodically once a year and keep the record of the autonomous inspection for three years. (Summary of Article 135)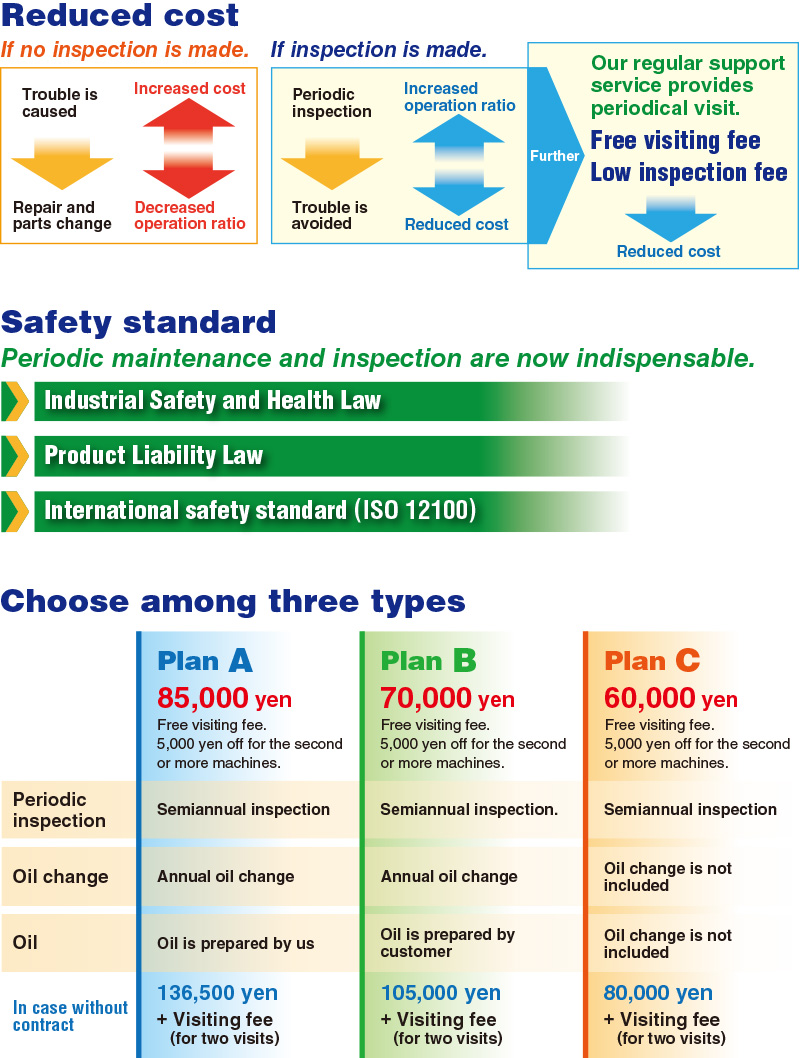 1. Details of maintenance services
We provide semiannual inspection and annual oil change for the cutting machine and paper feeder/discharger, which are manufactured and sold by us (within 20 years since production), at the annual maintenance service fee.

We manage the inspection and oil change intervals and visit upon a preliminary contact.

We change consumable parts and deteriorated parts (charged separately) upon customer' s approval.

We conduct repairs and adjustments that can be finished within the planned inspection visit. (Clutch adjustment, accuracy adjustment, grease supply to mechanisms, etc.)

We inspect according to a check list and prepare an inspection record.
2. Maintenance fee
1) Basic fee Plan
Plan A 85,000 yen
Plan B 70,000 yen
Plan C 60,000 yen
Plan A
Set plan including periodic inspection and oil change. We provide oil, too.
Plan B
Oil provided by the customer is used in this plan. (Waste oil disposal is not included in this service.)
Plan C
Oil change is handled by the customer. We conduct periodic inspection only.
2) Discount according to contracted number of machines
5,000 yen per machine will be discounted for the second and later machines if two or more machines are installed at the same site.
3) Extra time charge
The inspection work for a single machine is within two hours. An extra time charge of 5,000 yen per every 30 minutes will be charged for longer tasks if such tasks are requested for.
4) Parts cost
The cost of parts is separately charged except for the hydraulic oil and gear oil of plan A.
5) Additional charge for the visit on holidays or after-hours visit
Additional 15,000 yen will be charged per machine each time for the work on holidays.
6) The fee of the annual maintenance service will be charged in the contract month.